Children's program at Art Advent 2022
Children love driving around on the express rail trolley and looking at the rare domestic animals in the pen in the pond area of the market. Both young and old enjoy the caroussel of found objects which is also positioned in the pond this year.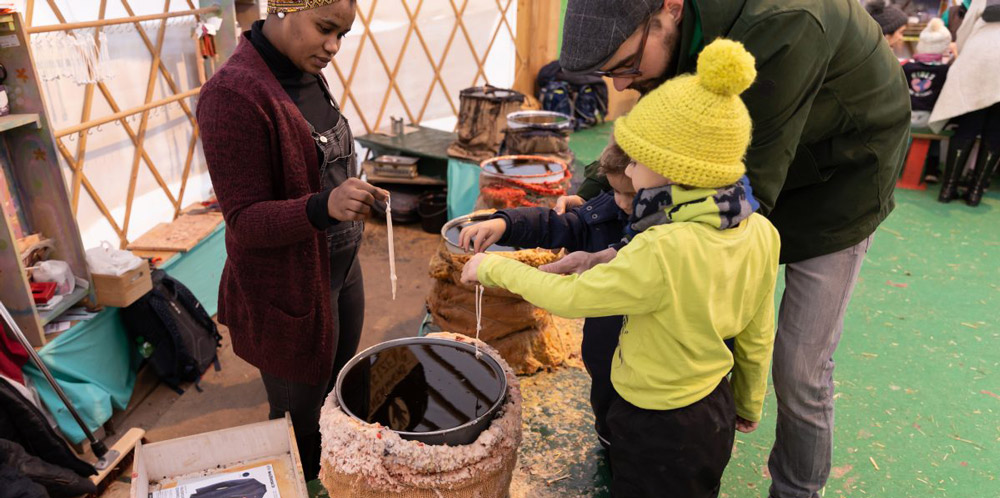 Star workshop
in the large yurt in the pond area in front of the Karlskirche.
Opening hours daily 3-7 pm
Supervised creative handicrafts for children from the age of 3. Candle-making from real and coloured beeswax can also be booked by school classes and children's groups on mornings. Info on registration can be found here: kerzenziehen_gruppen_buchung.pdf (1 mb) or contact us info@sternen-werkstatt.at.
The range of other creative stations and the admission rules will be adapted to the situation and designed according to the current legal Covid regulations.
Heavenly Tent
Small yurt in the fountain area in front of the Karlskirche
Opening hours daily 3 pm
Different storytelling artists make stories an experience for young and old. Free admission.
Here you will find the fairy tale programme and information about the storytellers (DO- SO)
You can find the program on this page below or in our program calendar.
The caroussel of lost property
daily
on the market place
The caroussel works without electricity, it is driven by muscle power. To get it turning you have to push the pedals.
Express rail trolley
daily
on the market place
A mobile rail installation, including switches and a platform, as well as diverse recycled bits and pieces to make a rolling rail trolley.